Bank Account Charges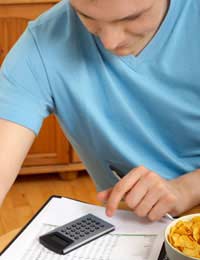 Whenever you open a bank account you will usually leave the bank with lots of reading material to get through or it will arrive on your doormat a few days later – there just isn't time to read it while you're there. However you should make sure that you know the ins and outs of the bank account you are opening before you sign on the dotted line.
It's very easy to forget that when you open an account there are a whole host of things that can cost you money - things that you might have assumed came free as part and parcel of your new bank account but in actual fact could turn out to be pretty pricey.
Account Fees
This is a charge that you pay simply for having the type of bank account that you've opted for. Many financial institutions still offer a free 'basic' current account, but it seems likely that free banking may be quickly becoming a thing of the past with many banks charging either an annual or monthly fee for a particular type of bank account. The more perks you get with the account, such as a better interest rate on your credit, free travel and home insurance, car breakdown cover and even free DVD rental subscription - the more likely you are to be charged for it. However don't be put off by this as it can sometimes save you money in the long run. Investigate a little further and you may find that the annual fee could easily be offset by the benefits you will get if you pay for any of these services already with a separate company.
When deciding which account you want to open, the first thing you need to do is check the charges. Check the ones that will be made obvious immediately - i.e. an annual fee to have the account, and the ones that will only crop up when something happens - i.e. unauthorised overdraft charges. Make sure you familiarise yourself with them all before coming to a decision.
Excess or Unauthorised Borrowing
One of the most common things that people are charged for is what is known as 'excess borrowing'. This is essentially going overdrawn without a pre-arranged overdraft or if you have an arranged overdraft, going over your limit.
If this happens, you can expect to be charged:
Interest on the amount you have gone overdrawn - usually at a much higher rate than normal
A Penalty Charge
Fees if you have any standing orders, direct debits or cheques that will 'bounce' as a result of your debit balance.
These charges might not look like much on paper, but if you don't keep a close eye on your account you will be amazed at how quickly they can mount up - take a look at this example of someone going just a few pounds overdrawn for one day without authorisation:
Interest on the amount overdrawn for 1 day: amount overdrawn x higher interest rate
1xUnauthorised Overdraft Fee: 1x25.00
2xreturned direct debits: 2x25.00
'Bounced' (unpaid) cheque: 1x25.00
Letter to advise of each unpaid item: 3x25.00
Letter to advise of overdraft fee: 1x25.00
All coming to a total of over £200 - just for going a few pounds overdrawn! You can see how easy it is to run up quite a balance of charges if you aren't careful. If you know something unexpected has happened, or if you're going to head into trouble you need to speak to your bank. Usually the terms and conditions will tell you what to do if you are in this situation and following the advice in here can help you avoid further costly charges. Burying your head in the sand will make things worse.
Admin Charges
Most banks will make several 'administration' charges for various services, but they generally vary from bank to bank, both in price and what they charge for. Look for services that will suit you best.
Common Admin Charges include:
Obtaining a reference
Issuing a bankers draft
Providing duplicate statements
Cancelling a cheque
Foreign Transaction Charges
As it becomes easier to use your domestic accounts abroad, many banks have an often complicated charging system for accessing your money while out of the UK. Check the small print for charges for:
Getting money out of cash points while in a foreign country
Using a debit card to make purchases outside the UK
Foreign currency exchange from your account and back in again
Cashing a cheque that is not from a UK bank account holder
All of these things may be chargeable so check first before you commit. If you travel a lot it may be worth you finding a bank account that charges a monthly fee but gives you free or discounted travel insurance and charge-free foreign transactions.
You might also like...