Making Childcare Arrangements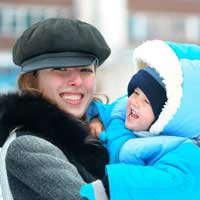 Leaving the most precious thing you have in the world with someone you don't know can understandably be terrifying. So when you need to find suitable childcare, you should do some research and make sure that you and your child are both comfortable with the choice that you make.
First of all, you need to figure out what kind of childcare you are looking for. Depending on your child's age and your working commitments, these can differ. Whatever your circumstances, you should always look for Ofsted registered child carers
Why Ofsted?
Ofsted look at the services offered for children, young people and learners and undertake regular inspections of those offering the services. They have compiled a register that allows anyone looking for childcare to make sure that those they choose are suitable.
They register two different groups - those who wish to look after children under 8 years old for more than 2 hours in any day and those who choose to join the register but don't have to.
For everyone who wants to register, Ofsted will send out an inspector to carry out an interview and check the premises and equipment, ensuring it is suitable for childcare. The inspector will make sure that applicants can achieve the national minimum standards for childcare - as set out by the government.
They will also carry out, or request that an employer carries out police record checks on the applicant and anyone else who may have contact with the children unsupervised.
So what Kind of Child Care is Available?
pre-schools or playgroups– usually playing time and early learning for under 5's
childminders - usually look after pre-school children in the childminder's own homes and collect school-age children from school
nannies – look after the child in your home and can look after any age
private nurseries – care from birth to infant school age or beyond, some pre-schooling
crèches – occasional use for under 8's
after or out of school clubs – safe environment for after school activities
All childminders that provide care for under-8s in England must be registered with Ofsted Early Years which means they have been inspected and meet with the Ofsted standards outlined earlier. In Wales they will be registered with the Care Standards inspectorate.
When making your choice, check to see that the childcare provider is actually registered : if they are you will be able to see a registration certificate, or if you'd rather, you can contact Ofsted direct. It's always best to be 100% sure so don't be afraid to ask questions and follow up any concerns you have.
Not Registered with Ofsted
Carers do not need to be registered with Ofsted if:
the child is over 8
the childcare is based around one or two activities
the childcare is based in the child's home
As mentioned earlier, if the carer wishes to put themselves on the voluntary section of the Childcare register then they will be allowed to do so but it is not mandatory.
Things to Look for:
When Ofsted carry out inspections of childcare facilities for children under 8 years old they then produce reports which detail the information collected during annual inspections. You can find these reports online or ring Ofsted to discuss them so they can help you reach a decision about where to place your child.
Investors in Children
Childcare providers that have shown a commitment to high standards of quality childcare can apply for accreditation to the Investors in Children Quality Assurance schemes. You may want to select one of these providers if possible.
Get Involved
No amount of reporting can replace the 'feeling' that you get when you enter a place. Although it doesn't guarantee the level of care your child will receive while there, most people would not want to leave their child somewhere that doesn't feel comfortable to them. For this reason, go and visit the places you are considering for your childcare and ask as many questions as you want and need to. You should be 100% comfortable with wherever you are leaving your child and who you are leaving them with.
Nannies
Unfortunately, government accreditation schemes and sponsorships don't apply to Nannies or au-pairs. If you are hiring a Nanny or au-pair then the level of care your children receive will lie solely on the decision you make. For this reason it is advisable to only consider a Nanny who has registered on the voluntary part of the Ofsted Register (details above).
If looking for a live-in Nanny, you also need to make sure that they are eligible to work in the country if not, you could find yourself facing a large fine and criminal charges.
Children's Information Service (CIS)
For help with finding someone to look after your children, you can contact your local Children's Information Service (CIS) who can give you advice on the options you have available in your area. They provide good impartial information and guidance and hold information on registered childminders, nurseries, pre-school groups, out-of-school clubs and also unregistered assistance such as parent and baby groups.
You can get the number for your local CIS by calling 0800 234 6346.
You might also like...
You should make sure that the people looking after children in their own homes (or anywhere, for that matter) do have qualifications and training, with the appropriate diplomas, and that training should be ongoing. They also need to be trained in first aid, in case of accidents, and CRB checked - after all, you want to be sure your little one's in safe hands, don't you. Make sure you check them out thoroughly, even if it's a neighbour who makes a little extra doing childcare. Your kids are worth it!
Donna
- 2-Jul-12 @ 10:33 AM