Gap Insurance and Conditions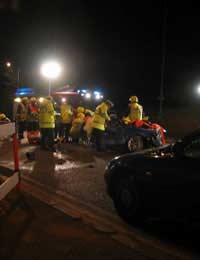 Why Would I Need Gap Insurance?
UK statistics show that on average a vehicle is stolen every single minute and with only 1 in three being recovered, this means that more than 500,000 are written off as what is called a 'total loss' each year.
Thousands of vehicles are also 'written off' in car accidents, meaning that they are beyond repair and cannot be returned to the owner.
You might think that as long as you've got comprehensive motor insurance you'll be covered, but beware - motor insurance companies only pay out to the value that they believe the car to be worth.
As they depreciate cars by almost 80% over a three year period you may well find that there is a large shortfall between what you have actually paid for the car and what you will be paid out in settlement if it is written off.
If you have bought your car on credit or via a finance arrangement, this can lead to you having to buy a replacement car while still paying off the remainder of your credit on the previous one, which unless you have deep pockets or a healthy savings account, can be virtually impossible - not to mention extremely frustrating.
Depending on the type, generally Gap Insurance will pay out the difference between what you get from your insurance company and the value of your car when you took out the policy, or replace the car with one that costs the same as yours did when you bought it (not when it was written off). There are two main types of Gap Insurance that we will be looking at:
Return to Value (RTV) Gap Insurance
Return to Value gap insurance can be taken out for up to 7 years after you bought your car whether you bought your car from a private seller or a dealer via cash, personal loan, lease, private contract purchase or contract hire.
Although the terms vary from company to company, a typical example will refund up to a fixed maximum amount, usually around £25,000 and will cover cars that cost up to £50,000 to buy and cars with less than 80,000 miles on the clock when the policy starts (there is no limit on mileage once the policy has begun).
What the Gap Insurance allows you to do is to have peace of mind when driving a relatively new car, safe in the knowledge that if it was stolen, or written off in an accident, then you would be able to settle any existing finance on that vehicle, or if you own it, that you would be compensated in full for the total value of your vehicle.
Replacement Vehicle (RV) Gap Insurance
As illustrated above, if your car is written off or stolen, your motor insurance company will pay out what they feel the car is worth. Bearing in mind that this value will have depreciated from the second you started driving the vehicle until the minute your settlement is paid out, you can see how little you're likely to get back compared to the real value of the car to you.
At the same time, the cost of a new replacement car is likely to be increasing - and so pulling away and causing a distinctive financial gap from what your asset is worth.
RV Gap Insurance is suitable for cars which are up to three months old - they can be brand new, ex demonstration models or pre-registered vehicles, with refunds going to a fixed maximum price of £25.000. The insurance can usually be purchased for up to 3 months after purchase of the vehicle and lasts for 3 years – or until you sell the car or transfer ownership – whichever comes first.
By taking out Replacement Vehicle gap insurance you are essentially protecting your investment - you won't suffer depreciation or inflation, and your car will be replaced with a brand new one if the worst happens and yours is written off as a total loss.
Can I Insure an Imported Vehicle?
You may buy GAP insurance to protect your interest if you have imported a car, but only if it is a 'Parallel import' which is an imported vehicle that has been manufactured for a member of the EU and confirms to European Wide Type Approval. 'Grey Imports' - imports that don't comply with EU vehicle type specification are not usually covered by these policies.
Things to Check Before Signing Up
Does the person who takes out the Insurance have to be the same person named as the Registered Keeper on the v5/logbook?
Is the insurance transferable if you sell the car? Usually not, but it's worth checking.
If someone else will drive your car regularly, check that your GAP insurance policy will cover someone other than you to drive the car, even if they are covered on your motor insurance - some companies won't and you could find that when it comes to settlement, they won't pay up.
Non-Payment of Claims
There will be several conditions laid out in any agreement you make for GAP insurance. Amongst them will be the things that the company will not pay out for, such as damage caused by negligence or while you are over the drink-driving limit. Make sure you are familiar with these.
Cancellation Policy
Before you sign, check if you can cancel the insurance if you wish to. In many cases you have a short 'cooling off' period of around 14-30 days to change your mind. If you cancel afterwards you will not be entitled to a refund of any premium. It's generally a good idea to spread the payment by instalments just in case you need to stop the insurance and have trouble getting your money back. In the case of a successful claim being made, your Gap Insurance will cease automatically.
You might also like...