Transactions and the Fine Print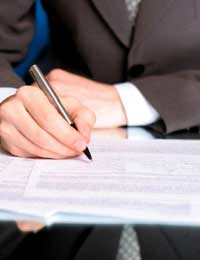 Every transaction has its fine print. It might be right there on the contract you sign, or it might be implicit in something, but the terms and conditions are always there, even if no information is posted and you're not aware of them.
Most of the time it doesn't matter. You buy something in a shop and that's the end of it. If it needs to be returned for some reason, there's no problem exchanging the item or refunding your money, as per the law.
However, when it comes to more expensive items, then there's usually some paperwork involved. It might be a contract you have to sign, or a leaflet with information about the terms and conditions of the sales, as there might be special instructions regarding item return, for instance, or the type of warranty applicable. Whatever it is, that's the fine print, and as a consumer it's important for you to be aware of it.
What The Fine Print Means
The fine print is often just that, very tiny, containing all – and that does mean all - the legal conditions pertaining to the transaction. Most people ignore them and simply sign the contract or make the purchase, but it's always best to read them first. Where there are terms you don't understand, ask to have them explained to you fully.
It's all in your own interests, since, although you do have statutory rights that nothing can alter, there might well be special terms in the fine print that you'll need to abide by regarding how to return an item or where.
The terms and conditions, the fine print, has to be available to you. It acts as a safeguard for the company too; if they don't they might be held liable for more than would otherwise be the case, since it shows the limits of their responsibilities.
Reading The Fine Print
The chances are that if you're buying, say, a new computer, you won't read the warranty slip from the shop before you buy, and a lot of the terms and conditions from the manufacturer will be in the box, so you won't see them until you unpack the item at home.
However, before making any major purchase you should always read the fine print involved. It takes time, and the salespeople might become frustrated and annoyed with you, but you're well within your rights to do so.
Fine Prints & Contracts
When you undertake any kind of hire purchase agreement, such as buying a car, you'll sing a contract, laying out all the terms for payment and the penalties if you don't. Again, make sure you read it thoroughly and have anything you don't understand explained to you. In many instances there should be adequate information in larger print about the conditions for repayment, including the total amount that will be repaid, giving you all the information before you sign, so you can change your mind if you choose.
Since these purchases are almost always larger items, pay special care to the fine print. You'll be owning the item for longer, so you need to know about repayments, warranties and responsibilities.
You might also like...