Life Insurance and the Conditions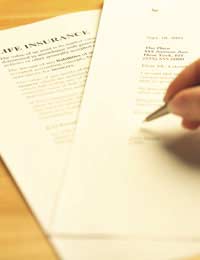 Life Insurance is a contract taken out by a policy holder on the understanding that the insurer will pay out an agreed amount of money if the insured person was to die The policy holder agrees to pay an agreed amount of money or 'premium' in order to take out the policy - payable in either a lump sum or over a monthly payment plan.
Why Would I Need Life Insurance?
Life Insurance is generally bought by individuals who want to replace the income that will be lost upon their death - to support their family and make sure that they can still meet their financial obligations.
If you take out a policy then the money from a life insurance payout can also be used to pay off any debt or outstanding finance that you leave behind, and can be used to cover the cost of your funeral; reducing the financial burden on your family should the worst happen. Should you wish to do so, you can also arrange to pay money to a charity via your life insurance.
Before taking out life insurance it's important to understand what the different types are, which are outlined below.
Mortgage Protection
Mortgage protection is a type of life insurance designed to cover a capital and interest mortgage if you should die before the payment for your home is completed. The lump sum payable will go down in line with your mortgage debt as it decreases.
Level Term Insurance
A life insurance plan that will guarantee to pay out a lump sum if you die during the term specified. Some plans of this nature will also pay out should you find out you have a terminal illness.
Critical Illness Cover
A critical illness scheme will provide protection if you suffer critical illness such as cancer, a stroke, MS or a heart attack.
Applying for Life Insurance
Not everyone can take out their ideal life insurance policy though. Each policy is determined by a number of different factors, the most important being how old you are, what your health is like and the type of policy you want to take out.
When a life insurance contract is being drawn up, it consists of the following :
Provisions
Provisions explain features of the agreement, as well as benefits, conditions and requirements.
Options
Options are features of the contract that you will need to choose to determine your coverage
Riders
Endorsements offered by the insurer when you apply for an agreement, usually additions that are added for an extra fee.
When applying for life insurance you will usually be asked to fill in a lot of paperwork, most of which will centre around your lifestyle and your health. This is important because how healthy you are, and how healthy your lifestyle is will determine the cost of your premium.
There are several factors that will affect your premium costs
Smoking
Smoking is a leading cause of cancer, heart disease, lung problems and various other life threatening illnesses. Because of this, smokers will have higher premiums than those that don't smoke because it is assumed that the risk of them dying sooner is higher
if you do smoke, don't try and claim that you don't. If you have to make a claim and it is proven that you are a smoker, then you will have your claim invalidated and you're unlikely to receive a penny regardless of how much you have paid in premiums.
Gender
Statistically speaking it is generally accepted that women live longer than men - and so it is assumed that a woman is less likely to claim during the term they are insured for. For this reason, a woman is quite likely to have lower payments than a man of similar age and health. It does balance out, however, if they both take out critical illness cover - as it is more likely that she will get a such an illness during the insured period than he, so her payments will be higher than his.
Age
Age is also an important factor when applying for a life insurance policy. Insurers generally have an age bracket (around 75) that they won't go over - and you could struggle to find insurance if you are over this age.
The older you are, the more of a risk you are to the insurer, so your premiums will go up alongside your age.
Exclusions
Exclusions are circumstances where the insurer can determine not to make the full insurance payment and some common exclusions follow:
If the death of the insured comes as a result of drug or alcohol abuse
If the information supplied on the application form is found to be untrue or fraudulent
Suicide of the policy holder
Death or serious injury to the policy holder and a third party caused by negligence of the policy holder
Death or serious injury to the policy holder and a third party caused by deliberate actions of the policy holder
In some of these cases, payment may be reduced, or may not be made at all, so you should read your life insurance contract thoroughly to see if your contract has them and/or any others.
You might also like...