Is Your Current Account Safe?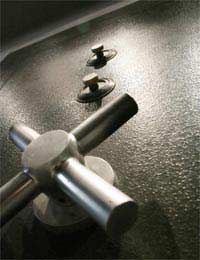 With all the doom and gloom surrounding the UK banking industry at the moment, it comes as no surprise that many people are worried about what they should be doing with their money. Every week it seems that a different financial institution is being 'helped out' of trouble by the government, and people are starting to ask questions about what happens to their money if the worst happens and their bank ends up going bust.
Banking Accounts
If you have a bank account which is in credit with less than £35,000 and the bank you hold the account with were to go into administration, then you would have no need to worry as UK banks are covered by the Financial Services Compensation Scheme (FSCS) who will give you back up to £35,000 should the worst happen.
The thing to be wary of here is that you need to remember that £35,000 limit is applicable to each bank rather than each account, so if you have more than one account - for example a savings account, a bank account and a business expenses account, then you are only covered for a combined amount of £35,000 credit across all three. If you are a holder in a joint account arrangement, then the FSCS will assume that any money in the account was split equally between all account holders, unless there is evidence that proves otherwise.
Savings accounts
Savers are having a horrible time at the moment with interest rates being next to nothing. This is incredibly frustrating for people who are saving for their retirement - or who have put away a large sum of money with the intention of living off the interest, or at least subsidising their income with it.There is some good news though - savings are protected by the FSCS, in the same way as current accounts - up to £35,000.
I'm with a foreign bank...am I covered?
Lots of savers have moved to foreign banks in an attempt to make their money more secure. Some of them are covered completely by Financial Services Authority (FSA) standards and any deposits made would be covered by the FSCS as mentioned above. Others work under a different system, in which a UK branch is set up and managed from their home country.
In this scenario, if the bank were to get into trouble and end up going into administration, you should be able to get some of the money back from the compensation scheme run in that country, and any shortfall would be topped up by the FSCS up to the £35,000 maximum.
I have over £35,000 in my accounts. What will happen to me?
This can be quite a complicated issue to work out because over the last few months there have been a lot of major banks and building societies who have merged with each other and the lines of ownership can seem somewhat blurred.
This can lead to confusion because people think that because they have (for example) £31,000 in their saving account, another account with a different bank which they use for expenses with £5,000 in, and £10,000 in their current account with a building society, then they will get back £46,000 from the FCSC if their bank goes bust.
However, it may well be that now due to these mergers, a larger corporation is now in control of all of them - meaning that all the accounts will be affected and the saver will only get £35,000 back if this is the case. It's worth finding out who owns your bank overall and spreading any accounts with high credit balances over different institutions. But first, make sure that their owners are actually different and don't assume that they are just because the financial institutions have different names.
If you don't have £35,000, it's really not worth worrying about as you're well covered by the FCSC. So all in all, for the time being banks are still a far better bet than a piggy bank or a hole in the mattress.
You might also like...