How to Resign and Taking Gardening Leave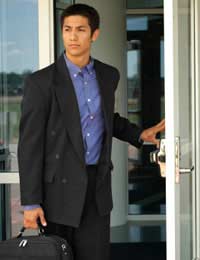 If a company employee has decided to leave their place of work and wants to hand in their resignation, the first thing they need to do is to check their contract - to see what the notice period is.
Notice Period
A notice period is the amount of time that an employee is required to remain working for the company, after they have informed them, in writing, of their intent to leave. Usually this is around 4 weeks, but in the case of essential or 'key' workers, it can be extended to 12 weeks, and sometimes longer - but this is unusual and will be detailed fully in their employment contract.
When an employee resigns, employers may try and get them to change their mind by offering them various things. These might include offering the employee a better position, a promotion or a pay rise. It's always worth considering these options, but it is important that they don't make a decision on the spot - there are likely to be several reasons why they made the choice to leave the company in the first place and they should take time to think over any offers the employer makes.
They should also think hard about whether or not accepting them will really make a difference, or else they may end up in the same position a few months later, but without a decent job offer.
If an employee is leaving to go to another, better job, it's possible that they might not get another good offer for some time – they need to consider how they will feel if things don't change and they have lost a good opportunity to get out.
After all if it takes the threat of resignation for to be offered a promotion and more money, what will happen the next time they deserve a pay rise or a step up the company ladder?
Gardening Leave
If the employee is working in a competitive industry, going to work for a rival company or is setting up a self-employed business in the same area of work, then when they hand in their resignation they may be instructed by their management to take 'garden' or 'gardening leave.'
What is Gardening Leave?
Gardening leave is the practice of forcing an employee who has indicated their intent to leave the company (or has been made redundant or fired) to keep away from their workplace during their period of notice. This is most usual when the employee is going to work for a competitor or there is a danger that in their future employment, they may take custom or customers away from their previous employer.
The alternative uses of Gardening leave refer to the situations that arise when:
An employee is subject to a disciplinary procedure and is sent home until decisions have been made
Any period when the employee is between live projects
If the presence of the employee at their place of work is likely to hinder other colleagues or the company, such as if the employee is involved in a scandal and is the subject of adverse publicity
Payment
Employees are afforded the same payment rights as they would have if they were coming into the workplace each day. They are still expected to adhere to confidentiality agreements and anything else that comes under their employment contract, at least until the notice period comes to an end.
If you have resigned recently or are about to, check your employment contract carefully so that you can be sure of your rights when you hand in your notice. If you are asked to take Gardening Leave, find out when your final salary payment will be made and what conditions you are expected to keep to during your notice period.
You might also like...
I would like to know if you are placed on gardening leave due to resigning , can they appoint someone in your poistion and start them straight away ?
Proc
- 25-Mar-11 @ 11:46 AM