Bankruptcy and Small Print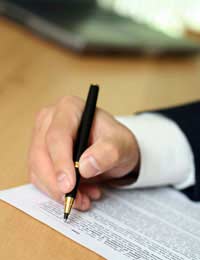 If you've ended up in financial difficulties, sometimes bankruptcy will be the only option available.
First things first, bankruptcy is a very serious step to take. It is a life-affecting choice and you must make sure that you are fully aware of what it involves and what restrictions will be put upon you if you choose to take this step.
Becoming Bankrupt
Either you or a creditor who is owed at least £750 of unsecured debt from you will present a bankruptcy petition and a court will then make a bankruptcy order. Usually the order will be presented at the county court near to where you live or trade.
Who Arranges it?
The Secretary of State will appoint an Official Receiver (OR) who will take responsibility for administering your bankruptcy and who will protect your assets from the date of the bankruptcy order. Unless an insolvency practitioner is appointed as trustee of your bankruptcy estate then the OR will do this too.
The OR will examine your financial affairs for the period before and during bankruptcy and reports to the court any instances that indicate you may have been involved in criminal activity, been dishonest, or been to blame for your bankruptcy status.
Notice of the bankruptcy order will be given to various parties including local authorities, utility suppliers, Land Registry and any professional bodies you may be a member of. Other parties including banks, building societies, mortgage providers will also be contacted to discuss assets that you may have.
Insolvency Practitioners
Insolvency Practitioners are people who are authorised by the Department of Trade and Industry or an appropriate professional body, and who specialise in working with insolvency. They can be appointed trustee in place of the OR and they will be responsible for disposing of your assets and paying your creditors.
Responsibilities
When a bankruptcy order has been made, you have some responsibilities, including:
You must provide information about your financial affairs.
Give the OR a list of all your assets and what you owe to whom
Advise the OR about any increases in income or assets you obtain during your bankruptcy including property
Not gain credit of more than £500 without first telling the person or business involved that you are bankrupt
Not making any direct payments to your creditors
Manage your assets and hand them over to the OR with any records, books, bank statements and any other papers that pertain to your financial and property affairs.
How does Bankruptcy Affect You?
If you are made bankrupt you shouldn't make any payments direct to creditors - anyone who believes you owe them money must make a claim to your trustee.
This includes suppliers of utilities, such as water, electricity and gas - they are not allowed to chase you for payment of bills that are in your name that were unpaid at the date of the bankruptcy, but they may ask you for a deposit towards making payment for further supplies, or arrange the account to be transferred in the name of your partner or spouse.
Assets
You will have to give up the interest you have in your home (if you own one) and possessions that are of any value.
You must disclose items such as those following to the appointed Official Receiver who will make the decision as to whether or not you will be allowed to keep them:
Any tools, vehicles, books or equipment that are essential to your employment or your business.
Basic household items including bedding, furniture, clothing and certain items of household equipment.
Usually you will be allowed to keep items such as the above unless their individual value is above the cost it would be to replace them.
The OR will take control of your other assets and will dispose of them and use the money to pay your creditors. Any fees payable to the insolvency practitioner for acting as a trustee will also be taken from the money raised from the sale of your assets.
Your Home
If you own your home, your interest will form part of the estate that your trustee will deal with. The residence may be sold to go towards paying your creditors.
If there is a spouse and/or children living in the property the sale of the property, if necessary, may be put off until the end of the first year of bankruptcy, so as to allow for other housing arrangements to be made.
Self-Employment
If you are self-employed, usually your business will be closed down and your employees dismissed. Any business assets will be seized (unless exempt) and will be sold off to pay your creditors.
Things You Cannot do While Bankrupt
You may not obtain credit of £500 or over or carry on business in a different name from that you were made bankrupt unless you advise all involved that you are bankrupt.
You may not hold certain public offices or office as a trustee of a charity or of a pension fund.
Banking
You may open a new bank or building society, but you must disclose your bankruptcy status which will impose conditions on any account you have and in many cases will see you being refused an account completely.
Discharged from Bankruptcy
Generally you will be discharged from your bankruptcy status after a maximum of 12 months.
You might also like...