Company Pensions Getting a Good Deal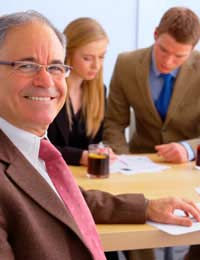 Although no-one likes thinking about getting older, with so many pensioners living in poverty it's really important that we make provisions for our futures while we have the means to do so.
For many of us, being invited to join a company pension is the first experience that we will have of preparing to save our money for later on in life. Pensions can seem like a scary and complicated minefield, so it's easy to accept the company offer and leave it at that.
But just because your company has a pension doesn't mean that it's necessarily the best deal you could be getting – so you should do some research before you agree to join. 25% can be added to your salary value by a good pension and yet it is an often overlooked and underestimated part of an overall benefits package.
What kind of pension you choose can be the difference between a comfortable old age or a miserable one so do think carefully.
Two important factors in choosing a pension can be:
Your age
If you intend to work for a company long term or are just planning on staying a little while
Employer Contributions
The first thing you need to find out is whether your company makes a contribution and if so, how much. If they do, this will increase the value of the pension you get and if there is a generous contribution level from your employer dependent on how much you pay in, it can be well worth putting in a little extra each month.
Also, make sure you find out what happens to your employee contributions if you leave the company - some companies will take back their contributions if you leave within a certain time period, leaving you with less than you expected.
Type of Pension: Salary Related or Money Purchase?
Next on the list and extremely important is to find out what kind of pension is being offered.There are many different kinds of pension, but currently most commonly offered are Salary Related and Money Purchase schemes. Understanding the different types will mean that you can make the decision that is best for you and your circumstances.
Salary Related
These pensions will give you a pension which is based on how much salary you are paid and how long you work for your employer. If you have a final salary scheme (though these have become very rare in recent years), then the pension will be worked out based on what the salary was that you were earning when you stopped being paid by your employer. If it's not a final salary scheme it may be worked out on your average salary over a number of years, and various other factors.
Money Purchase
These pensions work almost like a savings scheme where you save up, build up your savings pot with contributions, employer's contributions (where applicable) and tax rebates. The pension you will receive will rely on how much you and your employer put into the 'pot', how well the fund investments perform and the annuity* rates that are current when you retire.
* a financial product that you buy which provides a pension for you for life and your partner thereafter.
If you're still unsure, think of it like this. With salary schemes you know in advance what the pension is that you will receive and the company holds the risk. They have made you a promise surrounding your pension and they need to make sure they can follow up that promise and pay enough into the scheme to make it happen.
With money purchase plans, performance of rates and investments will determine how much you will get, so the pension value cannot be predicted. This also means that you bear the risk if annuity rates fall or investments don't do well and your pension ends up being lower than you had expected.
It doesn't mean that money purchase schemes are any worse, just that there is a higher level of risk associated with them. If annuity's and investments do well, then they could pay out more than a salary related scheme.
Other Schemes
There are some other schemes too, such as hybrids – where employers take some parts from both salary and money purchase plans and put them together – the details of these individual schemes are tailored by the plan providers and are not detailed here.
If you have the option of both, then think carefully. If you are at the younger end of the scale, you may find that you are better off with a money purchase scheme - especially if you are planning on changing your job within the next few years. You can build up your contributions substantially over time while a salary related pension might not build up as much over a short period of service.
However if you are older, approaching retirement or hoping to stay in your job for a longer period, then you may find that the guaranteed benefit that comes with a salary related scheme is more to your preference.
You might also like...