Reading the Conditions and Clauses of Private Healthcare Policies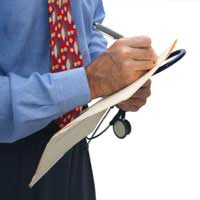 Over the last few years, well documented long waiting times and tales of superbugs stalking hospital wards have meant that many people have lost confidence in what the NHS can offer them, and are instead turning to Private Healthcare Plans so that they can get faster treatment should they need it.
Having Private Healthcare means that they will be covered for disease, injury or illness that can be classed as an 'acute condition' and will therefore respond well to treatment, leaving the patient as they were before they had the complaint. It can also allow the patient to choose when they have the treatment, who performs it and where they stay - and usually the rooms will have a far higher standard of comfort than NHS wards.
Which Kind of Plan?
There are two main types of Private Medical Insurance policies that most plans fall into – Comprehensive and Pay plans.
Pay Plans
Pay Plans are those often given as a benefit to employees by their employer, but they can be taken out by private individuals. The policyholder (or their company) pays a certain amount each month for a certain amount of cover. The patient can then have treatment that they need and as long as it comes under the terms of the policy, they can then claim it back. The amount of cover depends entirely on the amount paid each month, and there are many options and plans available.
Comprehensive Insurance
Comprehensive insurance is popular because there is often no limit on how much can be claimed, and the policies often have a small excess (or none at all). People choose this type of insurance because it allows the beneficiary to have quick treatment, and to make choices over when they have it. When choosing the level of medical insurance that is required, applicants need to take into account what is included in each policy and how including different levels of cover can alter their premium payments.
It's also popular because the insurance company handles all the administration involved in getting the patient the treatment that they need - unlike pay-plans the patient doesn't need to pay out for treatment and then claim it back – making it one less thing to worry about.
It also means that no matter the cost of the medical bills, as long as the condition is covered, then the policy holder can have peace of mind that they will get the treatment that they need.
Things To Consider
When choosing your insurance, you will need to ask yourself if you want:
This is treatment that administered in a consulting room, hospital an out-patient clinic, but excludes treatment given as an in-patient or day-patient
If a hospital visit is required, then the policy holder may need to stay for observation while they recover (for example, coming around from an anaesthetic after an operation). Day-patient treatment covers this, but not overnight stays.
If the patient needs to go into hospital and stay for a few days or overnight then In-patient treatment will cover this.
There are lots of other questions that you need to answer, such as:
Do you want to have a specialist consultancy available to you?
Are you happy to pay for initial tests or do you want those covered?
Do you want to be able to choose the hospital you are treated in or are you happy to let your insurance company choose?
Read the policy carefully, taking into account any options that you would like to add.
Exclusions
As with any policy, there are always exclusions involved. These will usually include (but are not limited to):
This refers to your normal GP service. You'll usually find that you will need to get a referral through your GP before you can proceed with any claim and this won't be covered by your policy.
These are conditions that you knew about before taking out the insurance. They are not always excluded and if you can include them you may be charged a higher premium to do so.
Treatment for Chronic Condition
This refers to long-term incurable illnesses. Cover may be included for up to a certain amount of time or money, or if you are eligible to extend your cover to include long-term incurable illness, then you will need to pay a higher premium.
Don't EVER be tempted to lie on the application to get a lower premium as your policy will be declared null and void and any treatment withdrawn if you are found out.
It is extremely unlikely that you will be able to get cover for accident and emergency treatment
There are also conditions that are often automatically excluded from private medical insurance policies including (but not limited to): anything connected with drug use/and or abuse, self-harm, HIV/AIDS, normal pregnancy, fertility treatments, sex changes, experimental treatment or drugs (such as those included in medical trials), transplants, dangerous hobbies, kidney dialysis and disease prevention.
You might also like...