The Clauses to Be Wary of in Vehicle Maintenance Agreements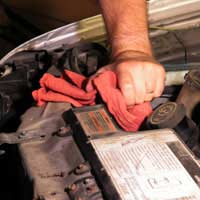 If you're thinking of leasing a car, you'll probably have come across Maintenance Agreements. When a vehicle needs repairing, it can be an expensive affair. Having a Maintenance Agreement in place can be a great way to ensure you peace of mind in the event that your lease car breaks down and/or needs costly repairs.
Why Would I Need a Maintenance Agreement if The Car is Leased?
If you're already committed to making a monthly payment then you might not want to run the risk of having to pay for anything that goes wrong with the car and leaving yourself out of pocket.
Maintenance Agreements aren't usually mandatory when you lease a car, but if you take out a contract on a car and go for a 'Non-Maintenance' agreement then the vehicle will usually be supplied with just your road tax paid for. Everything else that can go wrong with the car, you will be liable for and depending on your arrangement, that can include 'Wear and Tear'.
So Who Do I Get the Maintenance Package From?
Usually the company providing you with the lease will sort out your maintenance agreement for you as part of the deal.
What's Usually Included?
Maintenance Agreements can vary from place to place and can also differ in price - some suppliers may have different levels of cover and what is covered depends on how much you're willing to pay.
A typical top-of-the-range Full Maintenance Package would usually cover the following:
Full Maintenance and Service Cover:
Should you have any problems at all with the car with the exception of anything caused by an accident or damage, then pretty much everything is covered. If your braking system, clutch, gearbox, electrics, steering, heating, air conditioning have a problem, then you can get it sorted as part of your maintenance agreement.
Fix or replace Batteries and Exhausts:
This benefit does exactly what it says on the tin. If your exhaust fails, breaks or falls off, then they'll replace it. If the battery dies, they'll fix it, or if they can't, they'll replace it.
Tyres are sometimes a contentious issue with maintenance agreements, as in some cases replacement can be governed by whether or not there is deemed to have been 'fair wear and tear'. Sometimes when a car is a more expensive make or model, such as Mercedes or BMW, then the supplier will agree to replace tyres with an adequate substitute, but they won't pay out for dealer specific tyres – if you want them you will have to buy them yourself. In some cases, the tyres will just be replaced with like for like, no arguments – but it does depend on the individual agreement.
Routine Servicing – Collection and Return
Often the maintenance supplier will have a care package that includes collection of the car when a service is needed. The service will be carried out, any issues will be fixed and the car will be cleaned inside and out and returned to the owner.
Free UK and European Recovery Service
A Recovery Service is often included as part of a maintenance agreement. If you have one, ask if it covers Europe outside of the UK in case you are planning to travel.
Road Tax
If you have a Full Maintenance Agreement, then your Road Tax will be included for the full lease term.
Gap Insurance
If Gap Insurance is included, it means that should your lease car be written off, then any difference between what you owe on the lease and what the insurance company pays out will be covered. Essentially it means you won't be left out of pocket if your car is written off and the insurance settlement doesn't cover the cost.
You might also like...