Hiring a Car in Europe Including UK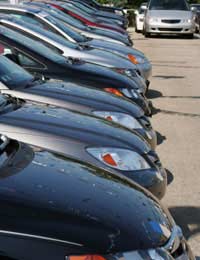 If you're heading off around Europe and the prospect of lugging yourself and your luggage around on busy trains and busses really doesn't fill you with glee, then you may want to consider hiring a car.
Also bear in mind that any quotes that you see on adverts or on websites are very rarely the full amount that you pay – they often put how much it is to rent the vehicle alone, and leave off costs that you have to factor in, such as insurance and damage waiver.
Book in Advance
Before you set off on your trip, look at the website for the car rental company that you are thinking of using. You'll often find that it's more economical to select your hire vehicle and book ahead this way as airports charge rental companies to use their premises, so they have higher overheads which they'll probably pass onto you.
If you book in advance you can also fill in the majority of the forms online and take advantage of any online discounts. This is a far better prospect than just turning up at the rental desk when you step off a flight, having to fill in mountains of tedious paperwork and somehow still ending up with the oldest, smallest car in the fleet because it's all they have in 'at the moment'.
Just make doubly sure that you book the right airport to pick the car up from – for example, if you're booking a rental car online from the US and want to rent the car from Manchester, England make sure you choose Manchester, UK as the pickup airport and not Manchester, New Hampshire or it can get really confusing, not to mention expensive!
So is it just as easy as that? Book online, turn up at the rental desk with your credit card and your paperwork, pick up the keys and off you go?
What Will I Need in Order to Rent the Car?
You will usually only need to show a valid drivers license for the country you live in and your passport. Of course you'll also need your credit or debit card - even if you're paying by cash - they'll be used as security in case you don't return the car.
What Should I Look Out For?
Before you sign anything, you want to make sure that you've read the agreement properly and understand all the terms and conditions within it.
The rental agreement should detail the class and type of vehicle that you are hiring, the manufacturer and model names, the registration, your personal information - such as name, date of birth, the dates you will be hiring the vehicle, address you will be at while the vehicle is in your possession, home address and various other information.
Next you'll see the various different rates you'll be paying while you rent the vehicle.
Vehicle Damage Cover / Collision Damage Waiver
This isn't actually insurance and it isn't compulsory, so don't be bullied into thinking it is. This covers the renter for the cost of repairs in the event that the vehicle is involved in a road accident, but can push the cost of your rental up by up to 20%.
Usually the waiver will only cover up to a certain amount and doesn't include broken glass, damaged tyres and similar damage, but you will need to check the individual policy to determine this. You will usually have an excess which you will need to pay in the case of a claim - for example, if your excess is £200, then you will need to pay the first £200 of any repairs made.
Personal Accident Insurance
Optional cover which protects the driver in the case of an accident caused by them resulting in death or permanent disability.
Theft Waiver
Will cover the hirer in the event that the vehicle is lost or stolen.
Loss and Damage Waiver
Loss and damage waiver combines Damage and Theft Cover
Fuel Costs
When you hand the car over you'll usually be expected to leave it with a full tank (or the same amount of fuel that was in it when you took the rental). It's worth finding out what the rental company will charge you and compare it to the cost you would pay for fuel before filling up.
Drivers
Check that everyone who wants to drive the hire car is named on the agreement and is eligible to drive it under the rental company conditions
Minimum age of drivers can vary from country to country though it is 23 for many rental companies. Drivers should have held a full driving licence for at least 12 months to be eligible to hire. If any of your drivers are under 23, find out if they can be included as a named driver on a policy in your name.
You may be allowed to do this if you pay a Young Person Surcharge – usually a daily rate. You can expect to pay extra for each driver, although some rental companies will allow the renter and spouse, or one named driver to go on the rental without extra cost.
Cancellation
Before you hire, make sure you check the rental company policy on cancellations – they differ greatly from place to place and you don't want to find yourself any more out of pocket than you need to be if you do have to cancel.
You might also like...