What to be Aware of When Hiring a Car in the USA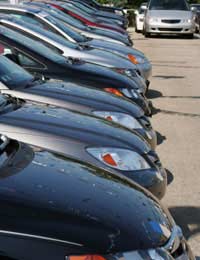 If you're heading off to the USA and want to do a bit of travelling, you may be thinking of hiring a car. So where do you start?
Know Where you are Planning to go
When you hire a car, there will usually be restrictions on keeping within the State you rented the car in - e.g. if you rent the car in Las Vegas then you will be confined to the Nevada borders. If you are travelling across state during your trip then consider hiring from a larger rental company as you'll usually find that you will be allowed to travel between States for a small premium, although they may want you to name any States you will enter.
For this reason it's worth figuring out in advance exactly where you are planning to go. If for any reason you don't declare any States you visit and you are involved in an accident, then the likelihood is that your insurance will be declared invalid and you will have to take full responsibility for the cost of replacing the car - not to mention the high legal and medical bills you will face if you or any one else is injured in the incident.
Fuel
Fuel is not usually included in the rental price and you will normally be expected to return the car to the rental company with the same level of fuel that it had when you collected it. If this is the requirement and the tank is not full, ask a representative to mark the fuel level on your rental agreement and sign it. This protects you should they claim later that the tank was full when it actually wasn't.
Picking up a Rental Car
You can walk into a rental company and pick a car up, but it's not advised. This is because you may end up paying a high price for whatever they have in the car lot - they know you need a car and are more likely to take whatever they offer you. It's also a horrible chore to pick up a car after a long-haul flight - the last thing you need is reams and reams of paperwork to fill in, and then to go hunting for a car in a huge airport car park. If you book in advance you can avoid all that and you'll have a good chance of getting an online discount, not to mention a lot more choice in the kind of car you can hire - if they don't give you the best offer, then you can go somewhere else.
When you've booked online you can and arrange to pick it up. Most rental companies will come and collect you from your accommodation to pick up the car and depending on how close you are, it's usually free.
Documentation
You'll need your driving licence of course - many places will accept a UK card-style driving license, but some require the paper counterpart also. To make sure what you'll need, check before you go. If unsure, take both.
Payment and Deposit
To hire the car you'll need a credit card - very few places will let you take a car without one. What the rental companies often don't explain clearly is that a hold for the weekly cost of the rental will be put on your card, meaning that although they don't actually take the cash, they 'reserve' it, just in case you don't come back with the car, or don't pay. When you pay, this hold should be lifted (make sure you double check your credit card statement). For this reason, it's worth having a credit card that you don't intend to use for anything else other than the car rental because while the 'hold' is on your card, you can't spend that money.
Staying on the Right Side of the Law
You should always familiarise yourself with the road laws for any place you are visiting. Remember that in the USA legislation tends to differ by State, and what is legal in one may not be legal in another.
Make sure you understand:
What the speed limits are
What the different road markings and road signs – including parking – mean
State laws - such as can you turn right on a red light and who gives way to whom?
What you should do in the case of an accident or emergency
Extras
Read the agreement carefully. Make sure you have any insurance mandatory in the States you are travelling in – but beware of the hard sell. You would be advised to take out Public Liability and Personal Accident Insurance, depending on what your travel and domestic (UK) motor insurance policy cover you for (if anything). Damage Waiver and Legal Insurance are also options you can take, but beware of excess charges that can wipe out any savings you make on a small bump.
Returning the Vehicle
Make sure it's written on your agreement when you need to have the car back. Don't accept word of mouth, if necessary ask the representative to write it on the agreement and initial it. Always give yourself enough time to get the car back to the rental company with time to spare or you may end up paying for an extra day.
You might also like...